Daily Bonus is a reward that you receive for playing every day. You may claim boosters.
Description
Edit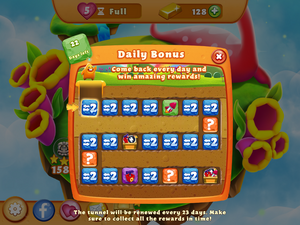 Every day you proceed one field and will be granted the related bonus. If you miss playing on one day, you stay on the same field, and the last field in the row will be converted into stone because you will not be able to reach it anymore within the 23-day cycle.


There were several changes in the awards that you receive, and also the length of the cycle differed.
The daily bonus was started in June 2014. It had one or two gold bars in the bonus. There were boosters, 2 extra moves, and treasure boxes with two or three boosters.
Then Atomic Orb was added as a booster in 2015.
On mobile, the daily bonus started in 2015 and was similar to the web version. Every 23 days, it was renewed.
In 2016, a brand new bonus appeared on the web. It had five days. The atomic orb was on the fifth day. So it was important not to miss a day, that you could reach the atomic orb - the most powerful booster.
On mobile, it remained 23 days, but without gold bars and some additional boosters instead.
In 2016, the fourth day was changed into a "5 extra moves" booster, was changed to dynamite and added an atomic orb on the fifth day.
With the change of the web version from Flash to HTML5 on 7th February 2018, the daily bonus calendar was reverted back into a 23-day daily bonus calendar, and the atomic orb booster is not available anymore.
On 10th December 2018, the rewards of the Daily Bonus are changed.
Gallery (Former versions of Daily Bonus)
Edit
Community content is available under
CC-BY-SA
unless otherwise noted.