m

Line 14:
Line 14:
 

|totaltoys = 109

 

|totaltoys = 109

 

|score = 500 points

 

|score = 500 points

−

|difficulty = Medium

+

|difficulty =

 

|depths = 5

 

|depths = 5

 

|boards = 5

 

|boards = 5

Line 25:
Line 25:
 
 
 

==Difficulty==

 

==Difficulty==

−

* Amount of required toys is high.

+

* Amount of required toys is high.

 
+

*'''WARNING:''' This level '''forces''' you to spend one shovel booster at the start!

 
 
−

==Stars very easy very easy con. easy==

+

==Stars==

 

{| border="10" cellpadding="1" cellspacing="1" class="article-table" style="width: 290px;"

 

{| border="10" cellpadding="1" cellspacing="1" class="article-table" style="width: 290px;"

 

|

 

|

Line 36:
Line 37:
 

| style="text-align:center;" |'''Points'''

 

| style="text-align:center;" |'''Points'''

 

| style="text-align:center;" |500

 

| style="text-align:center;" |500

−

| style="text-align:center;" |9,000

+

| style="text-align:center;" |,000

−

| style="text-align:center;" |26,000

+

| style="text-align:center;" |,000

 

|-

 

|-

 

| style="text-align:center;" |'''Difficulty'''

 

| style="text-align:center;" |'''Difficulty'''

−

| style="text-align:center;" |Unknown

+

| style="text-align:center;" |

−

| style="text-align:center;" |Unknown

+

| style="text-align:center;" |

−

| style="text-align:center;" |Unknown

+

| style="text-align:center;" |

 

|}

 

|}

 
 
 

==Strategy==

 

==Strategy==

−

Don't use Color Burst from Magic Orb on first and second board.

+

Don't use Color Burst from Magic Orb board.

−

*'''First board:''' Collect the top at the '''top right''' and '''top left''' corners first. Then collect the rest of the toys on the board (the ones positioned on porous blocks). Look for combos to do so. Afterwards, proceed to the next board as soon as possible.

+

*'''First board:''' Collect the at the '''top right''' and '''top left''' corners first. Then collect the rest of the toys on the board (the ones positioned on porous blocks). Look for combos to do so. Afterwards, proceed to the next board as soon as possible.

 

*'''Second board:''' Go from the bottom to the top. Match some combos to collect the toys (all of them, if you can) and make sure the flow of water doesn't reach the exit before you've collected all or most of the toys on the board.

 

*'''Second board:''' Go from the bottom to the top. Match some combos to collect the toys (all of them, if you can) and make sure the flow of water doesn't reach the exit before you've collected all or most of the toys on the board.

 

*'''Third board:''' Collect some toys (the ones you can) and make sure you proceed as soon as possible. You could have difficulties with breaking the way through - feel free to use the Color Burst to help you.

 

*'''Third board:''' Collect some toys (the ones you can) and make sure you proceed as soon as possible. You could have difficulties with breaking the way through - feel free to use the Color Burst to help you.

Line 65:
Line 66:
 

[[Category:5-depth levels]]

 

[[Category:5-depth levels]]

 

[[Category:5-board levels]]

 

[[Category:5-board levels]]

−
 
 

[[Category:Levels with broken stones]]

 

[[Category:Levels with broken stones]]

 

[[Category:Levels with mud blocks]]

 

[[Category:Levels with mud blocks]]

⚫
 
 

[[Category:Levels]]

 

[[Category:Levels]]

 
⚫
---
Revision as of 10:06, 22 September 2015
Level 22

Episode
Amber Alley
Level type
Toys
50 (Total: 109)
Moves
30
Blocks
  
Other features
None
Magic Orb
Unknown
Target score
500 points
Difficulty
Easy
Depths
5
Boards
5

Level 22 is the twelfth level in Amber Alley and the fifth toys level in Diamond Digger Saga. To pass this level, you must collect 50 toys and reach 500 points in 30 moves.
Difficulty
Amount of required toys is high. But the amount of available toys is so much higher, that makes it easy.
WARNING: This level forces you to spend one shovel booster at the start!
Stars
| | | | |
| --- | --- | --- | --- |
| | | | |
| Points | 500 | 12,000 | 28,000 |
| Difficulty | Very Easy | Easy | Medium |
Strategy
Don't use Color Burst from Magic Orb until the last board. Collect most toys on the last board. Before, just take what you can't avoid ;-)
First board: Collect the toys at the top right and top left corners first. Then collect the rest of the toys on the board (the ones positioned on porous blocks). Look for combos to do so. Afterwards, proceed to the next board as soon as possible.
Second board: Go from the bottom to the top. Match some combos to collect the toys (all of them, if you can) and make sure the flow of water doesn't reach the exit before you've collected all or most of the toys on the board.
Third board: Collect some toys (the ones you can) and make sure you proceed as soon as possible. You could have difficulties with breaking the way through - feel free to use the Color Burst to help you.
Fourth board: There are a lot of toys here. If you have enough moves left, you should be able to collect enough toys and pass the level.
Trivia
There was an enormous history of target score changes: 5,000 - 10,000 - 15,000 and 3,500 - ? - ?.
Walkthrough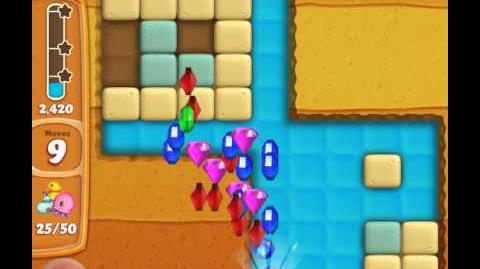 Community content is available under
CC-BY-SA
unless otherwise noted.