Removed Content

This page contains information about content that was previously in the game but got removed.


Treasure Mine was a special episode where bonuses are available by passing challenge levels.
Challenge levels
Rewards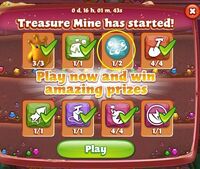 The atomic orb is a very powerful booster which helps you destroy all blocks of a board. It only works on the level you are.
The goldy help is a special booster is a useful booster which helps you continue a level you lost without spending extra gold. It can only be used once but whenever you need.
Trivia
Gallery
Walkthrough